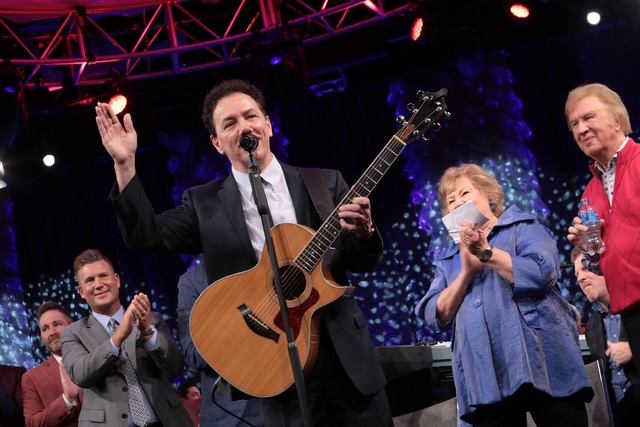 GRAMMY-nominated Tim Menzies grew up in Mechanicsville, Virginia. Tim's Mom, Janet Menzies, fell in love with music early in life and began singing and playing guitar while still a young girl.  In 1952, Janet married Walter Menzies, who became her #1 fan and supporter.  Janet became a member of Richmond's "Old Dominion Barn Dance," and as each of their five children was born The Menzies Family band gained a new member. The Menzies Family performed extensively in Richmond, and eventually traveled the East Coast and Canada, sharing their musical gifts with receptive audiences. They frequently performed as the opening act for many future legends in Country Music including Johnny Cash, Dolly Parton, George Jones, Loretta Lynn, Merle Haggard and many others.
In 1980, Tim moved to Nashville to pursue a career in music. While playing night clubs in Nashville, Tim met future band mates Jerry Fox, Jerry Johnston, Joe Van Dyke, and Lonnie Wilson. Together they formed Warner Brothers Recording band, Bandana.  In Bandana, Tim first experienced recording in the studio, interacting with record labels, publishers and country radio stations across America.  While touring and recording with Bandana, Tim met individuals in the Nashville music community who eventually hired him to play and sing on their Nashville projects.  This led Tim to transition from traveling for a living to staying home in Nashville with his wife Brenda and their son Timothy.
During the mid 1980's, Tim began playing guitar on records with artists such as Kenny Rogers, Tammy Wynette, Waylon and Willie and others. Recording with prominent artists and top musicians in Nashville was a dream come true for Tim, but the songs he had written in his boyhood home began a lifelong love of songwriting.  While Tim was making a living playing guitar on records, singing national jingles for Coca Cola, Bonanza Restaurants, and Chevrolet Trucks, as well as performing in Nashville venues at night, he continued to develop his songwriting. Tim's songs caught the ear of legendary publisher Bob Beckham, and in March of 1985 Bob signed Tim to Combine Music.  As Nashville artists began hearing and recording Tim's songs, he was able to transition to full time songwriting.
Eventually, Tim's demonstration recordings of his songs attracted producers Bob Montgomery and James Stroud. In 1989, Tim recorded "Stone By Stone," with Bob Montgomery and in 1992, he recorded "This Ol Heart" with James Stroud.  While these albums did not garner the commercial success for which Tim had hoped, they did become another means of artists hearing and recording the songs Tim had written.  In 1990 Tim signed with another legendary publisher, Pat Higdon.  Throughout the coming years, Tim continued to enjoy hearing his songs sung by some of the most gifted singers in Nashville.
Some artists who have recorded Tim's songs include George Jones, Tammy Wynette, Kenny Rogers, John Conlee, Gene Watson, Shenandoah, Doug Stone, Diamond Rio, Tracy Lawrence, Shelby Lynn, Reba McEntire, Trisha Yearwood, Mark Chestnutt, Randy Travis, Patty Loveless, Toby Keith, Martina McBride, Joe Diffie, Trace Adkins, Josh Turner and many others.
Tim's wife Brenda grew up in the Church. When their son Timothy was a toddler, the Holy Spirit compelled Brenda to raise him in the Church, as she had been.  After many months of their attending without Tim, the Lord employed 5-year old Timothy to compel his Dad to attend with the family.  Tim began attending Church with his family, and soon felt the movement of the Holy Spirit in his life.  In 1991, Tim joined a small Bible Study group with Brenda, and while studying God's Word, Tim received Jesus Christ as his Lord and Savior.  When Tim wasn't writing songs, he was absorbed in God's Holy Word. Over the next several years, God increasingly called and equipped Tim to teach others about the Holy Scriptures, resulting in Tim leading and teaching hundreds of Bible classes and being blessed to witness God's Word transform lives.
Through a series of promptings and circumstances over the past few years, Tim discerned the Lord was calling him to record a Christian album. At the perfect time, God led Tim to Ben Isaacs of "The Isaacs," internationally acclaimed and awarded Christian singing family.  In 2013 Tim, Ben, and recording engineer Mark Capps, began recording Tim's first Christian album. Through the recording process, Tim's lifelong love of music, his relationship with Jesus, and Ben's gifts as a Producer resulted in Tim's GRAMMY-nominated album, His Way Of Loving Me.
In 2019 Tim, Ben, and Mark released a new album entitled, "His Name Is Jesus." Along with newly written songs from Tim, and a few classics such as "Something About That Name," and "Walking In Jerusalem," Tim is honored to be joined by many gifted guest vocalists on "His Name Is Jesus" including The Isaacs, The Gaither Vocal Band, Vince Gill, Karen Peck, and Rhonda Vincent.
Tim is most honored and thankful for the opportunity to share the Gospel of Jesus Christ through The Word And Song.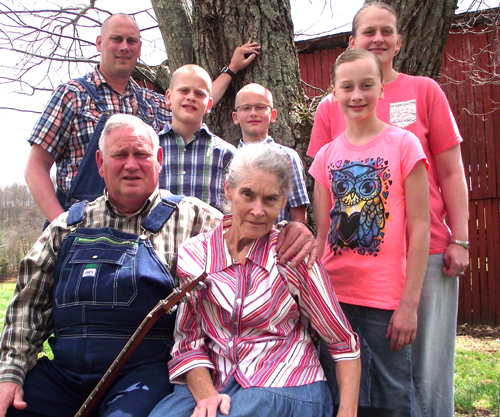 The Johnson Family got started in 1972 when Isaac (Jeff) Johnson Sr. and Rachel got married.  They started out in church and have been there ever since.  In 1974 the Lord called Jeff to preach his word, at the age of 17.  They continued traveling to church in various states singing and preaching the Gospel.  A few years later their son Isaac Johnson Jr. came along and started learning to play music with his parents in church.  In October of 2006 Isaac married Suzanne and they started a family of their own.  The group now consists of Jeff, Rachel, Isaac, Suzanne, and their three children Sarah, Isaiah, and Caleb.  They make their home in the Hayters Gap Community of Washington County, VA.  The entire family enjoys traveling to churches around the area spreading the good news in word and song.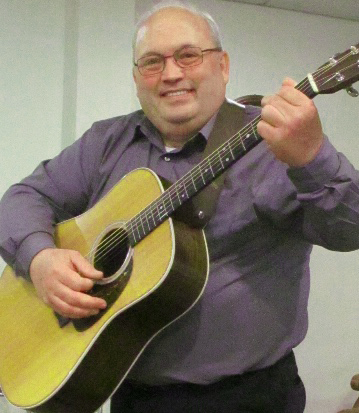 Billy Lee Clifton was born and raised in Buchanan County, VA, where He still lives with his family, in an area that he loves so well. His dad was a coal miner that had to miss a lot of work, due to having bad lungs. Because of Bill's parents' love for their children, Bill and his siblings never went hungry. Bill always had a dream to be able to play a guitar and sing one day. He received his first guitar for Christmas when he was about 11 years old. He would pick it up and lay it back down, wondering if he would ever be able to play or even carry a tune to be able to sing. As a country boy he would spend hours whooping and hollering in his parent's basement as well as standing out in the edge of their yard just trying to imitate some singer that he had heard.  Around the age of 13 Bill learned how to play along with another musician, and that led to his hunger for more. The greatest thing he ever did was to give his life to God and raise his family in church. He is happily married with two wonderful sons and daughters-in-law that have given him and his wife five precious, dearly loved, grandkids. He was one of the original Keen Mountain Brothers Group members for around 28 years, before God dealt with him to start preaching and singing on his own. Now with several songs that the Lord has given him, and after much prayer, he has decided to use those songs for the glory of God. He has recorded his first project with some of those songs that others had asked for him to record. Two of the songs on his project have his wonderful grandkids doing small parts at the beginning of one and then doing the Lord's Prayer at the end of the last song. Oh, what a blessing! Because of God's love and his call, he sings and preaches God's Holy word, wherever he goes. He has a Nursing Home Ministry, a Prison Ministry, besides other types of ministries. God has done so much for him and his family as they try to win souls unto the Lord. And now God is starting to use his grandkids, as they too are learning to sing and play. GOD IS GOOD!