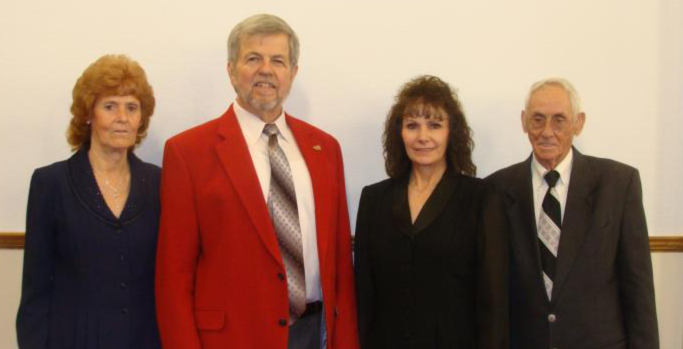 The Principles began their career in Bluegrass Gospel in the early 1980's.  The group was founded by Linda Deel and her mom Madonna Shelton, and has progressed into a nationally known Bluegrass Gospel group that became full time in 1988.
 The unique angelic voice of Linda Deel has been compared to Dolly Parton, Alison Krauss, and Emmy Lou Harris  but is absolutely unmistakeable from the first word of a song that listeners know as Linda from The Principles, and is definitely a God given talent. The great harmony blend  has made The Principles a well known nationally Bluegrass Gospel group that is still in popular demand today and over the past two decades.
 The first major chart hit for the group was I Want Us To Be Together in Heaven, which charted in the top ten.  Other hits include: Crowning Of The King, What Was That you Said Lord,  Bought By The Blood, You'll NeverRun Out Of The Blood,  I Just Want To Thank You Lord , Lord I Need YouAgain Today, and their current hit I Don't Have To See The Tomb.  The Principles have  recorded 25 projects as of current record.   Their most requested song would be, I Want Us To Be Together In Heaven, that has blessed thousands in the past and is still blessing thousands today.
 The greatest accomplishments would consist of being  part of the Jimmy Snow Show, and to sing at countless major bluegrass shows all across the country.
 Awards include being nominated for the Dove Awards, in the Bluegrass Category, and to also be Favorite Bluegrass Group in many areas.
The Principles average traveling 40 weeks out of the year and have had 3 buses during their career.  One of the favorite and largest auditorium to play would have to be The Georgia Mountain Center, in Gainesville, Georgia.   Other states they have traveled would be Mississippi, Florida, Pennsylvania, Ohio, Alabama, West Virginia, Virginia, Maryland, North Carolina,  South Carolina,  Kentucky and their home state of Tennessee.  The Principles are well known to tens of thousands all across the USA. And I must say they know of whom they sing.

If you enjoy the old style of gospel singing – the kind you heard in days gone by on long play albums, 8-track and cassette tapes – then you'll quickly become a fan of Sacred Journey Quartet. Based out of Johnson City in East Tennessee, this quartet has a combined 200 years of experience singing Southern Gospel music. In a Sacred Journey concert, you'll hear songs from the era of The Happy Goodmans, Inspirations, Rambos, Kingsmen, Cathedrals, Glory Bound Quartet, Wilburns and others. Mixed in along the way will be favorites from artists such as The Mark Trammell Quartet, Kingdom Heirs, Perrys, Gold City Quartet, and the Dove Brothers. Add to that some original compositions and you have a concert experience reminiscent of the quartet days of yesteryear.
Lead singer Jeff Taylor, bass Greg Crowe, and tenor Larry Simerly – all founding members – as well as baritone Steve Taylor, bring a rich heritage of Southern Gospel quartet singing to the stage. Jeff has sung both regionally and professionally for over 40 years. He helped found several regional groups, including The Potter's Clay – a popular Kingsport, TN-based quartet of the 1970's. He also traveled professionally for a time. He is a Navy veteran, married to Susan, with one son and a grand-daughter.
Greg, a former Navy SEAL, has been singing since the age of 12. His professional experience included stints with The Greenes and Phil Cross & Poet Voices. In his travels with these groups he had the privilege of singing in many of the great venues across America. He, too, has been a part of other regional quartets. Greg does all the driving and the majority of booking for the group. Along with his wife Jennie, the Crowes have a daughter, a grand-daughter, and two great-grandsons.
Larry, the senior member of the group, has been singing Southern Gospel music for 56 years, beginning with childhood when he sang with his mother in church. After traveling with another regional group for 10 years, he formed The Glory Way Singers and they sang together for over 25 years. With group member departures, he continued the group as a trio before transitioning into the current quartet. Larry and his wife Barbara are the parents of two boys and a girl, and they have two grandchildren.
Steve – who sang his first solo as a mere child at Kingsport's Cedar View Independent Evangelical Methodist Church, where he attended with his parents – is no stranger to the East Tennessee gospel music scene, having sung with traveling regional quartets since the age of 16. Most notably, he was a member of The Crusaders Quartet from Church Hill, TN, then was a founding member of and first tenor singer for The Calvarymen Quartet, based out of State Line Baptist Church. The quartet quickly grew in popularity and became the host group for the sold-out gospel concerts promoted by the late Tilford Salyer at Kingsport's Civic Auditorium in the mid-to-late 70's. Steve later answered the call to ministry and was both a bi-vocational and full-time pastor at Baptist churches in Tennessee and Virginia, retiring from the pastorate in 2011. For seven seasons, he performed a weekly gospel concert in Sevierville, TN at the Wyndham Smoky Mountain Resort. Married to Maggie, the Taylors' family includes two sons, a daughter and seven grandchildren.
The key word in Sacred Journey's music ministry is "ministry." Every member will readily tell you that, regardless of the venue, the quartet's goal is to minister to the needs of the people in the audience and to lead sinners to a personal saving relationship with Jesus Christ.

As a child, Rebecca Alexander always had two strong career choices that she frequently voiced to those close to her. She was determined to be either a missionary or an airline stewardess. Ironically, the Lord has blessed her with both. She flies all around the country sharing the good news of Jesus Christ!
Since 1994, Rebecca has been delighting audiences of all ages with her many stories. Growing up in a Christian home on a dairy farm in east Tennessee has given Rebecca the background to write and tell stories that will make you laugh and cry all in the same moment. Rebecca desires most to share Jesus Christ through her stories. Her personal stories, sacred stories, Biblical characterizations, and straight scripture tellings will capture your heart and lift your spirit.
She also tells Appalachian stories, poetry, fables, legends, scary stories, and gives motivational talks. When you hear Rebecca Alexander tell stories, your imagination will soar to places you have never been and take you to places you've forgotten.
When Rebecca is not telling stories, she is a full-time wife and mom. She has two daughters, Madison and Whitley, and her husband Howie is a very talented watercolor artist.
Rebecca received her BA degree from Milligan College in English, Sociology /Psychology, and a M.Ed. in storytelling from East Tennessee State University.
She performs regularly with the Jonesborough Storytellers Guild, and is a member of NSF (National Storytelling Foundation), ETSU Tale Tellers, NOBS (Network of Biblical Storytellers), and Boones Creek Christian Church.