Michael is a Christian singer / songwriter from Oak Ridge, TN and has been traveling in ministry with his family since 2009 proclaiming the love of Christ through his music.
Before launching his own ministry, Michael wrote songs for other gospel artists. His song, My Home, is perhaps his most well known, becoming a #1 hit at many radio stations across the country.
When Michael released his first CD Welcome Home, the first radio single "Everything's Fine" became an instant hit and began opening doors for him and is still his most requested song to this day.
Now, eight years later, Michael is still going strong with no plans of slowing down. He has released a total of 6 studio albums, 14 radio singles and 1 live concert DVD / CD.
Michael grew up influenced by different styles of music, but his primary interest has always been southern / country gospel. This is evident when you hear his songs. However, in late 2015, he released his first worship album More Of You. Although southern gospel is his heritage, he wanted to express his heart of worship a little deeper through the music on this album. In doing so, it has given him a new audience to minister to and given him a new appreciation for worship music.
In December 2016, he released his 6th studio album with Chapel Valley called No Time To Quit, with 12 new songs, 7 of which are his own originals. Michael states that he is very excited to share these new songs and see how God will use each one to build His kingdom. One song in particular entitled "Jesus Saves" was birthed out of a difficult time that Michael went through in the spring of 2015. He hadn't written any new songs in over a year and began to feel that God was moving him out of ministry. As he prayed for God's direction, he wrote this song and believes it was God's response. Through this song, Michael saw clearly that it was not time to give up but to keep pressing on!
Whether it's songs like "Everything's Fine", "Until The Storm Is Over", or "This Too Shall Pass" that keep us encouraged during difficult times or songs like "Changed By Your Grace" and "Calvary Stands In My Way" that remind the Christian that God forgives and forgets our past sins so we can live in victory, each one is anointed and reaches to the heart.
Michael and Kelley have been married for 24 years and have two daughters, Kerri and Kasey. Kerri is the oldest and is a full time college student and serves on the worship team in their home church. Kasey still travels with Michael and Kelley most of the time and plays the violin. They are members of Big Emory Baptist Church in Harriman, TN.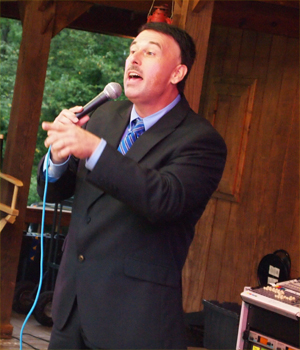 Brian Burchfield is from Surgoinsville, TN. He started singing at the age of two with his family, The Caltons (known as The Singing C's) He got saved at the age of nine and started writing songs at the age of twelve. He wascalled to preach in 2002 and is an evangelist also. Brian graduated from Volunteer High School in the top 25 of his class and won the Sam L. Taylor scholarship. He went to college at the Walters State Community College, Draughons Junior College, East Tn x-ray school and The University Of Tennessee. He also graduated valedictorian in his class. In 1998 he wonthe summer youth worker of the year in Hawkins County, TN His first full time group position was in 1991 with The Singing Crisps. In 1994 he started Divine Purpose for ten years and five of those were full time. He used to do bookings in the early1990's for Buck Rambo of the Rambos, The Ruppes, and Mike Bowling's family group, Family Tradition, among countless others. He also booked fill in dates for The Singing Cookes, The Whisnants, Naomi & The Segos and The Melody Trio to name a few. He has promoted numerous concerts with The McKameys. He sang for the Australian rowing team for the Atlanta Olympics. He has also sang on TBN (Trinity Broadcasting Network) He won the listeners choice award for thesong, "The Grave Can't Hold Me." He recently had songs published by Crossroads Music Group and is associated with BMI. He has been a member of The Southern Gospel Music Association, The Gospel Music Association, The Southern Gospel Music Guild and Tennessee Association of Fairs.Brian joined The Melody Trio in October of 2004 after the members of Divine Purpose decided to work in their home church and to be with families. While with The Melody Trio he wrote and sung lead on the number one song " I Know I'm Saved". He records and writes for the Eddie Crook Company , Morning Star Records of Nashville, Tennessee and for BMI of Nashville, Tennessee.  he was nominated for the Horizon Award, Song Of The Year, and for Group of the Year with The Melody Trio for the Eddie Awards.He wrote and sung these charting songs: " I Know I'm Saved " , " I Thought You'd Like To Know " , " Lord You're The Only One For Me " , " He's Always There " and " The Knee Route ". This is a full time ministry and ministers to the lost and hurting with words of encouragement for the christian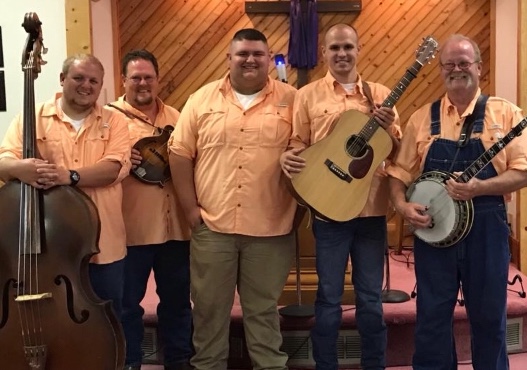 In the spring of 2018, as Jacob Church and Jacob Hill were turkey hunting they started talking about how the Lord was dealing with them about starting a Bluegrass Gospel Band. So we started getting in touch with musicians and singers. Since the group began, some of the members have changed due to school and work conflicts.
The current group consist of:
Jacob Church - Lead Singer.  He started singing in churches when he was 5 years old.  He is 17 years old, a senior in High School.  Jacob was called to preach the gospel in January 2014 at the age of 13 and has spoken in many churches over the past 5 years.  The Lord has blessed Jacob with several talents for him to use to serve the Lord.  Jacob's parents are Jimmy and Holly Church and he has a younger sister, Madison.
Jacob Hill – Guitar Player.  He started playing the guitar at the age of 21.  He played a year with the group Fully Persuade.  Jacob started at the Mandolin player with Forgiven Bluegrass Gospel and changed to playing the guitar for the band in September 2018.  Jacob was called to preach the gospel in April 2017 and the Lord has blessed him with many opportunities to preach the word to several churches.  Jacob graduated from Lees-McRae in May 2019 with a bachelor's degree in Criminal Justice. Jacob is the son of Marty and Misty Hill and has 2 brothers, Abram and Isaac.
Mike Laws – Banjo Player.  He started playing the guitar and banjo at 7 years.  Mike grew up in Chicago and by the age of 13 he was teaching guitar and banjo.  When he was 18 years old, he moved to Milligan College and started playing for Milligan Men.  At the age of 21, he started playing North Wind and Jim and Jesse Productions and in 1975 he played for RCA records.   In the 1980s, he moved back to Elizabethton, TN and played for Brown County and Ohio County Liners. Mike worked at Jim Rick's Music Shop and worked on Martin guitars and taught music.  From 1991 to 1996, he played to Jordan's Crossing and from 2000 to 2009, he played for String Fever.  Mike has played with Third Day Resurrection from 2011 to present and is also currently playing the banjo for Forgiven Bluegrass Gospel.  He has been married to his wife, Susie for 39 years and they have 2 children – Bradford Laws and Rebecca Ramsey, 3 grandchildren – Max, Montana and Memphis Ramsey and will have a great grandchild in a few months.
Eddie Woods – Mandolin Player.  He started playing with the group in October 2018.  Eddie played the mandolin several years in at Valley Forge Free Will Baptist Church.  He is employed with Providence Academy School. Eddie has been married to his wife, Joy Woods for 34 years, they have 2 children, Rebekah Hodge and Joseph Woods, 4 grandchildren – Madison Hodge, Maddux Hodge, Jase Woods and Rayla Hodge is due in October 2019.
Joseph Woods – Doghouse Bass.  He started playing the bass for Forgiven Bluegrass Bass on June 10, 2019.  He is employed with the State of Tennessee Department of Transportation.  Joseph is married to Ashley Woods and they have one son, Jase.  Joseph is the newest members of the band.  We were in need of a bass player, we ask him if he was interested in learning how to play and the Lord has blessed him with a talent to play.  We all showed him the Bluegrass chords G,C and D and he took it from there.
Michael Hodge – Sound Tech.  He has been help with running the sound for the past month.  Michael works at AY McDonalds.  He is married to Rebekah Hodge and they have 3 children, Madison, Maddux and Rayla will be here in October 2019.  Since Michael has started taking care of the sound system, it has helped the group to focus more on the stage of performance.
The Lord has really blessed us this year with the opportunities to ministry in Tennessee, Georgia, North Carolina and Virginia.  We look forward to seeing what God has in-store for us in the coming months.